Realtors, Click Here to discover why the KeyGuard realtor lock box is the BEST closing gift you can give!!


Do you want to give a gift or premium that conveys Security, Convenience and Peace of Mind while also promoting your company?


Any of your clients that use keys can use a KeyGuard realtor lock box! Give a premium gift that will be utilized instead of stashed in a box or thrown away. Be assured that your client will continue to utilize your promotional investment for years to come.




Your personalized KeyGuard realtor lockbox offers long-lasting value. The KeyGuard realtor lockbox is not your typical disposable promotional item. Homeowners will use your durable promotional gift to store spare keys, share keys with others while providing you with a medium with a prolonged promotional value.

Minimum quantity to imprint is 12 units. Pricing decreases as quantity increases (setup fee divided over a larger number of locks).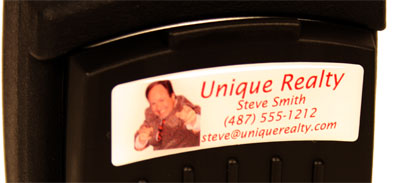 Your company information will be placed in the area (1/2" high by 2" wide).
Images can be imprinted over the ribbed area (increasing size to 2.5" high x 2" wide) but we do not recommend small text over the ribbed area.